Kitchen:
Non-electric appliances? Off the grid cooking? Well heck, why not? Bring a little farm practicality and non-electric ease into your day. Don't forget: Modern IS Timeless. Let the sun cook your goodies, explore time-tested kitchens, or just increase the number of non-electric appliances you use. We realize not everyone will be into churning their butter and milling their grain. But isn't it fun to know you could?
I have caught a lot of flak from my ever-analytical soul mate who says, "Well, who the heck would have an electric cookie press anyway so why is this better?" So I revise this: This is just a page of good, solid, kitchen appliances, and energy efficient options to what you might currently be using. Let the cookin' begin!
Stoves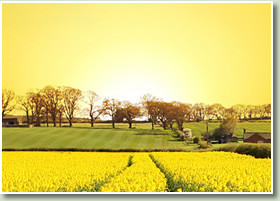 Green Refrigerators and Freezers
From large energy-efficient tanks to tankless water heaters.
Practical, Easy,
Energy-Efficient
Staples
Gettin' Crafty
Goin' to The Farm